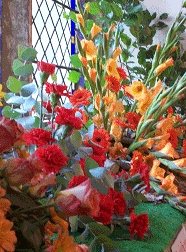 Members of the congregation, both male and female, arrange the flowers at St Nicholas church and we are always seeking new helpers to go on the rota.
For weddings we are always able to provide floral displays to meet your requirements if required. If a bride does not wish to have extra flowers or is happy for the church flower arrangers to decorate the church, we try to assist them with their colour schemes by using similar colours.
On church festival days all the window sills are decorated including one by Scouts, and another by the Guides. Every few years, together with local flower arranging groups we stage a flower festival in aid of church funds.
Contact Val Fisher, through the church office, for further information.