Messy Church
Messy Church
Messy Church is a new way to worship and learn more about the Christian faith, and is an opportunity for fun activity for the whole family - children to grandparents! We begin with a variety of crafts for everyone to join in, which are all based around the theme of the day. For the more energetic there are games to play. After about 45 minutes, we all join together for a short time of worship through song and story. Finally we finish with drinks and food, giving everyone a chance to chat and relax. Join us and experience Messy Church at St Nicholas. Dates as advertised here, on public notice boards and on Facebook.
Tuesday 29th May 2018 :.'Celebrating Music'.
A fantastic morning, celebrating music, including a trip up the bell tower, learning how an organ works and the opportunity to make musical instruments, which were then played during 'worship time', with further accompaniment from David, playing his guitar. The morning ended with the usual hot-dogs and cake.Further report and pictures to be found in 'Recent Events'
Messy Church: 31st July 2018,10-11.30 in St.Nicholas Church, during 'Open Churches Weeks'. The theme was 'God's Gifts in Summertime'.
Sowing seeds, making kites and parasols, creating beautiful flower pictures and making sandcastles, Worship time and games, before the morning ended with the usual hot-dogs and cake..
25th October 2018. 31 children and 61 adults attended the Harvest Messy Church at St. Nicholas. Dereham Mayor, Hilary Bushell joined us to celebrate the harvest of land and sea.She seemed to have great fun joining in the craft activities, games and worship time with the children, before sharing our lunch of fish finger rolls and mini fruit baskets and cake....yummmm!
19th February 2019 Half Term session: Noah's Ark
Craft activities included Decorative Noah plates, Dove head-dresses, Extending neck giraffes and Lion face masks. The morning was enjoyed by 65 children and 65 adults, so our volunteers were kept VERY busy!
Canon Sally led the popular game of 'Beans' and the morning finished with Worship and hot-dogs plus cake, which included Birthday cake, as Martha was delighted to celebrate her 6th Birthday with us.
A busy but very successful morning, bringing a lot of pleasure to so many!
Good Friday Messy Church 2019
Easter themed crafts ensured the children attending would know about Palm Sunday, Maundy Thursday, Good Friday and Easter Day. Canon Sally blessed a decorative cross, dedicated to the late David Webster, which will be central to all future Messy Church Worship.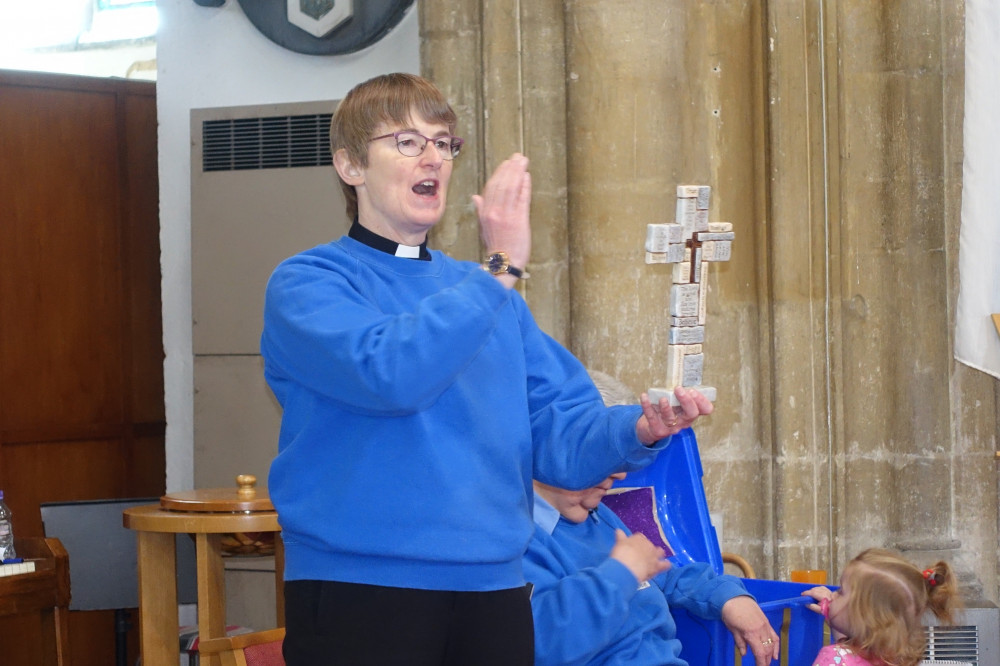 The next session will be on 28th May 10-11.30am, during the half-term holiday.